ABOUT THE BROOKLIN WOODCARVERS
DEDICATED TO THE ART OF WOODCARVING
For three decades, the Brooklin Woodcarvers have dedicated themselves to the art of woodcarving using knives, gouges, chisels, and other tools.
Our club meets every Thursday evening from 6 to 9, at the Brooklin Community Centre on 45 Cassels Road East in Brooklin. We begin in September then wrap up for the summer in April.
Our member consist of adults both male and female, with abilities ranging from beginner to master carver. Our members willingly share their knowledge, skills, and will gladly assist any new members in getting started.
Also, our club membership and tool costs are quite reasonable. If you are interested in trying woodcarving or even just curious, please pay us a visit any Thursday evening or contact one of our members listed!
Brooklin Community Centre
Kade Bolger working on a whimsical house in cottonwood bark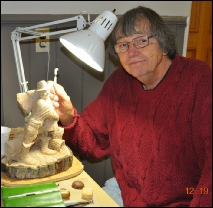 Joe Dampf working on his next winning piece
Club members Gregg Johnstone, Terry Johnstone, Jess Budd working together
Club members Tom Machesney, Phil Renaud, Paul Houston working together