In the Workshop with Fred Zavadil
Modelling and Carving
by Fred Zavadil
Fred begins with a sketch, incorporating movement and asymmetry in his figures. From this he creates an armature, paying attention to proportion and alignment. Next he builds up the base using oil-based clay, than moves on to outer layers. Graceful detail of fabric and hair may be a signature of Fred's work, built up with clay and sculpted into folds or curls. Fred will work the model until he is satisfied.
Using the clay model dimensions, Fred laminates a wood block, preferring to select individual wood pieces rather than risk "discovery" of flaws hidden in the centre of a log. His skill as a master wood carver is evident in his translation of the clay model to the more unforgiving medium of wood. His carvings combine sensitivity and delicacy with a realism of expression and movement. Female hair and draped fabric appear to waft in an unfelt breeze and almost beg to be touched.
---
Text and Photography
by Anne Shelton
Anne has photographed sites around the world for over 30 years. Beginning with rough journals accompanying those adventures, she has progressed to writing a dedication speech and article about the birth of a memorial to honour those lost in a WW2 air disaster. When not travelling, she has been carving a series of wood spirits in her garden.
Rarely has Anne had the opportunity to sit still long enough to observe a master create a finished model from a box of clay, let alone the opportunity to capture that magical process on camera. It has been a gift to be invited to document that journey, and to watch the model in the original drawing emerging finally from a square chunk of wood.
Table of Contents
About the Artist

. . . .  2

Introduction

. . . .  4

Gallery

. . . .  5

Chapter one: Tools and Materials…12

Chapter two:  Modeling

. . . . 14

Creating the Armature . . . . 16

Constructing the Heads . . . . 17

Roughing in  . . . .30

Refining Details  . . . .39

Chapter three:  Carving

. . . . 46

Transferring Key Points   . . . 46

Creating the Laminated Block  . . . .49

Carving  . . . . 50

Appendix: Head proportions…70

About the Author

. . . .

71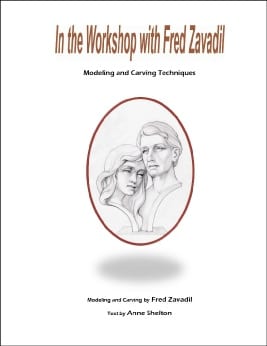 Co-published by the Ontario Wood Carvers Association and Legas.
ISBN 978-0-9810934-0-6 (OWCA), ISBN 978-1-897493-05-2 (Legas)
Printed and bound in Canada, 2008